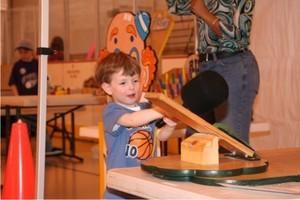 XA5 535 Volunteer CARNIVAL GAME PACKAGE School
Actual Size: 50'x20'
Setup Area: 60'x30' minimum
Outlets: 0
Age Group: all ages
Attendants: 10+ One per game mimimum.




School, Camp, and Church Fun Day CARNIVAL GAME PACKAGE. Best value when you can supply the volunteers. Real State Fair, Carnival Games for your fun day event! Three EZ Popup canopy tents with 9-10 best quality, 'A' games and any tables or 'wheels' needed to run those games. Canopy Tents will be set up 10' apart from each other to increase the game area and create an illusion of a larger carnival. One or two games go in each space. Additional canopy tents are available for $35.00 each. Photos and games are viewable on the website. www.AirCastleGames.com 10x10 canopy tents come with sidewalls and back walls which keep errant balls and game pieces within the game space. We also include 24 inch safety/traffic control cones linked together with bright safety rope to help define the area for the children. The game tables are adjustable to accommodate children of different heights and abilities. Games can also be placed on the grass/floor depending on the game and/or need. Games differ and are selected for your particular situation. Game tokens are awarded with each game. Game tokens can be redeemed for prizes or goodie bags you provide and reinforce real world math skills back in the classroom. Only games of SKILL are provided NO games of chance (gambling) are included. Each Fun Day CARNIVAL GAME PACKAGE includes one supervisor for up to a 3 hour period $485.00 or up to a 6 hour period for $585 who provides support and direction for your volunteers. Additional time is available at $50.00 per hour, per School Carnival Game and Tent package. Additional games are also available ($50.00 each) as long as you have additional volunteers. You must supply a minimum of one volunteer for each game, for each shift. Volunteers need to help set up and take down tents, tables, and games, as well as run the games. Floor plan will be provided and there are two brief volunteer meetings required, one before set up and one before game play. Directions are provided for each game. Discounts may be available for the Good Neighbor Award, food machines (popcorn, cotton candy, snow cone) and craft machines (spin art, edible Pucker Powder sand art.) Cost for up to 6 hours; 5 game spaces, 9-10 real carnival games, tokens, 1 coordinator staff person and you supply minimum of 10 volunteers for the full rental period is $585.00 and currently includes a bonus of free double spin art machine rental. We recommend several shifts of volunteers with no shift longer than 1 1/2 hours with volunteers signing a commitment agreement in advance. Ask about fund raising opportunities for this package. Some of the most awesome events we have seen combine an inflatable obstacle course with the Fun Day CARNIVAL GAME and Tent package! ($585.00) Games in package B includes; Crasy Hats, Crasy Cans, Mr. Ring A Ling, Golf/Cue ball, Shuffle Board, Frog Hop, Skee Roll, Tip A Troll, Star Darts and Slap Shot or Bean Bag Row. If you get both A and B then the similar games will be grouped together for traditional row playing.
(Edit Items)