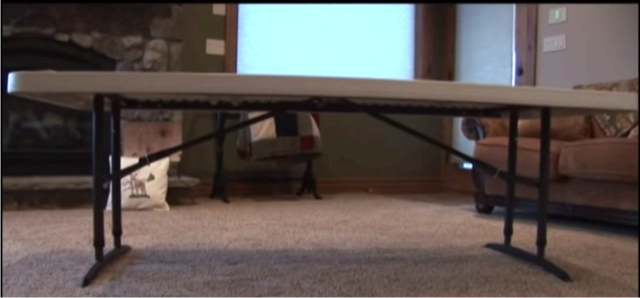 Table Preschool seats 10 (up to 12 using table ends)
Actual Size: 72 in. L (182.9 cm) x 30 in.W (76.2 cm) x various heights Table top thickness; 2 in. (5 cm)




Preschool Tables That Can Grow!

22"-24"

(60.96cm)

For Preschool Children's Parties. Seats 10 (Up To 12 useing table ends)



6 Ft. Adjustable Height Folding Table (White Granite)
Versatile Adjustable Height
Color:
White
Designed with three height adjustments. Raise the table to its highest height for a refreshment table for adults or the lowest height for the kids.
72 x 24" adjustable table adjusts to three different height settings
22", 29", 36".
22"
(60.96cm)
or 24" for preschool children's parties,
seats 10 kids (
Up to 12 children using table ends).
29"
(73.6 cm)
standard adult banquet height,
seats 6 adults (
Up to 8 adults using table ends)
36"
(91.4 cm)
buffet table height. Standing only at this height, or 6 bar stools.
Durable Construction
With the Lifetime adjustable height folding table, you'll be ready for anything from a formal dinner banquet to a children's birthday party. The Lifetime adjustable height folding table allows you to choose from three different table heights to accommodate your needs for a variety of occasions. Like all Lifetime tables, it is designed with smooth, rounded edges for comfortable handling when carrying. No more cuts, scratches, or painful grooves in your hands! Table surface allows for smooth handwriting as well. Also designed with safety gravity rings to prevent legs from collapsing after set up even if they're not fully deployed. We use UV-protected, high-density polyethylene (HDPE) plastic with a honeycombed tack-off design for extra rigidity and rust-resistant, powder-coated steel. This 6 ft table is an all around great table.

Indoor outdoor, adjustable height, folding
Powder-coated steel and high-density polyethylene (HDPE) plastic
Exceeds ANSI/BIFMA standards

36" buffet table height can be a refreshment table, a scrapbooking table, or an indoor/outdoor food preparation table--this folding adjustable height work table is built to serve a variety of purposes!