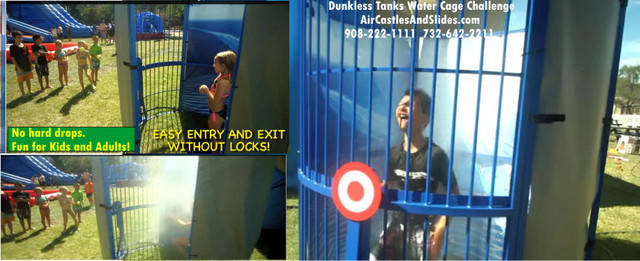 Dunkless Dunk Tank Water Cage Challenge Manual . Call the office before booking this item.
Setup area: 20x20
Age Group: Grade school through adult
Actual Size: 15x15
Outlets: Needs water hose and faucet
The Dunkless Dunk Tank Water Cage Challenge! This brand new water game is a safe and convenient alternative to outdated Dunk Tanks. There's no tank to fill for hours, no risk of accidents from dropping and hurting backs or knees and no possibility of hitting heads against the drop board, or drowning. Able to enter family backyards (unlike the old ) regardless the size of the backyard gate. The throughput is much higher because contestants don't need to climb up onto a pedestal repeatedly. Hit the bullseye target to blast the unlucky contestant in the cage with cool (refreshing) water from several spray nozzles.

This game is a blast for kids AND adults. Introductory price - book yours before price goes up! Copy and paste to see video;
https://youtu.be/9ZDnkHAOfuY
Great for your event, school, camp, block party, street fair, chuch community event. Raise funds for both throwing the ball AND now for going in the cage! Be the envy of the neighborhood - be first in your area to rent THE Dunkless Dunk Tank Water Cage Challenge!

Dunkless Dunk Tank Water Cage Challenge! is the manual version. A volunteer crimps and uncrimps the hose as the ball hits the target.