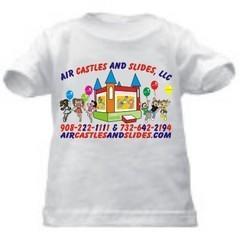 Gift T Shirt for birthday child
Setup area: only one free gift T-shirt per party rental.
Age Group: All birthday children
Actual Size: Supply your child's T-Shirt size in comment section
The Air Castles And Slides Full Color Gift T Shirt Gift T-Shirt for your party child also includes a PERMANENT* Fabric marker so your child and party guests can autograph the birthday child's T-Shirt for a fun, memorable, wearable gift from us! You can expand the fun by purchasing a T-Shirt craft project kit for each party guest so all children go home with autographed full color party T-Shirts. It is an awesome party favor and craft activity combined! These are PERMANENT fabric markers and Air Castles And Slides, LLC assumes no responsibility for problems resulting from use of markers. You must directly supervise children at all times with markers. Choking hazard for children under 3 years of age - so be especially cautious of the marker caps. Fabric CRAYONS are available for younger children (under 3 years of age) - but must be heat set (ironed) before wearing and are available on request. Markers in your child's gift bag, or the craft kits will be randomly selected from the following so no color choice or style is guaranteed.