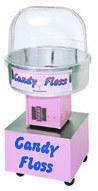 Cotton candy machine rental with supplies
Age Group: All ages love this 'remember your childhood' treat!
Outlets: 1
Cotton candy machine with supplies for 65 melt in your mouth just like at the board walk servings! Smells like you remember that wonderful smell too. Regular price $110.00 only $65.00 when booked with inflatable or Deluxe Carnival Game package. Cotton Candy Machine FREE SUPPLIES COME WITH THIS MACHINE...... 1- CONTAINER of SILLY NILLY Traditional Flossugar AND cotton candy cones! Floss Boss is a full size, Cotton Candy machine at a very low rental price. • Easy to operate.. . plugs in anywhere. Floss Boss with Non-Metallic Floss Bowl is a great machine. It's the most dependable Cotton Candy machine in the industry. Solid state heat control, high capacity spinner head, and cool running operation makes it easy. It is recommended that this (and all other floss machines,) be operated with some type of floss bubble to protect from flying sugar crystals in case someone overloads the spinner head. We supply the 'double bubble' for maximum protection. The Double Bubble, the ultimate in protection – simply sits on the top rim of the 26" (66 cm) outside diameter floss bowl. Our Cotton Candy Flosssugar is Kosher and marked "K Parave" on the sealed containers.