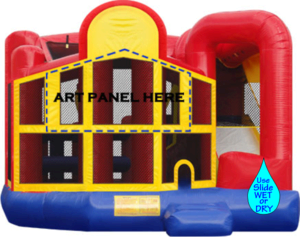 Colossal 5in1 THEMED Combo Jump, Obstacles, BBall, Rock Wall climb, Slippery water or dry slide. Select theme
Actual Size: Length: 20'0" (6.1 m) x Width: 19'0" (5.8 m) x Height: 15'0" (4.58 m)
Setup Area: Length: 23'0" x Width: 22'0" x Height: 18'0"
Outlets: 1
Age Group: Children 5-12 years with a minimum height of 40"
Attendants: 1 person must supervise, in a private backyard you may supervise it. In a public location you will need to pay for us to supervise.




Colossal 5in1 THEMED Combo; Jump, Obstacles, BBall, Rock Wall, Slippery (water or dry) slide. Select theme from 'Popular Themes'. *** The 5-in-1 combo style bounce house is the ultimate in inflatable jumpers! The large interior jumping area offers a basketball hoop and both log and pop-up obstacles. This bouncy castle has a climb feature and a convenient exit slide for hours of active fun! Parents and spectators are offered a clear view with the 360-degree mesh sides of this moonwalk. The 5-in-1 combo bounce house is made of lite n strong™ fire-resistant vinyl for safety, durability and easy portability. This 5-in-1 bouncy house is sure to make any indoor or outdoor event a great success!
Over 70 Licensed Inflatable Themes include; Aladdin, Autumn Harvest, Ballerinas, Bambi,

Batman,

'

Bladin', Boardin' & Bikin' , Blues Clues, Boys Will Be Boys, Brother Bear, Carnival Party,

Celebration, Christmas,

Church Community, Circus Fun M/L, Dinosaurs, Disney Beauty Beast,

Disney Cinderella, Disney Finding Nemo,

Halloween Dracula, Disney Lilo and Stitch, Disney Lion King, Disney Little Mermaid, Disney Mickey Mouse, Disney Pocahontas, Disney Princesses 13/15,

Disney Sleeping Beauty, Disney Snow White,

Dora, Fall Fabulous,

Fairy Forest Friends, Fire Truck Rescue, Fire and Rescue, Football Rutgers vs Princeton, Girl Thing, Happy Bday Animals 5 M, Happy Bday Babies, Happy Bday Boy Med, Happy Bday Clown9, Happy Birthday Curious George,

Happy Birthday kids 3, Happy Birthday photo,

Horses, Hulk Attack, Incredibles, Lets Party,

Looney Tunes, Madagascar animals,

Monster Truck Madness, Monsters Classic Movies, Noahs Animals, Patriotic - Land of the Free, Peter Pan Wendy Hook, Pirates, Power Rangers, Princesses Ethnic, Racing Cars, Robo Car, Saint Patrick's Day Carnival, Scooby Doo,

Seaside Beach, Shrek,

Space Kids, Spider Man, Spring Kids, Sponge Bob, Sports Balls, Sports Kids Play M/L, Strawberry Shortcake, Superman, Thanksgiving Med, United We Stand America, World of Warriors & Wizards, Western fun Cowboys, Winnie T Pooh, Zoo,